Watch general conference online
This worksheet is for taking notes on during the general women's session of general conference. Many readers have already used my more comprehensive general conference notes worksheet because it has spaces for all the sessions of general conference, including the general women's session. But when my oldest daughter turned eight, I thought it would help her younger mind to have a simplified notes worksheet, to get excited about the session and to start learning the purposes of note-taking and how to do it effectively. And since I'd made it, I might as well post it online for others to benefit from, right?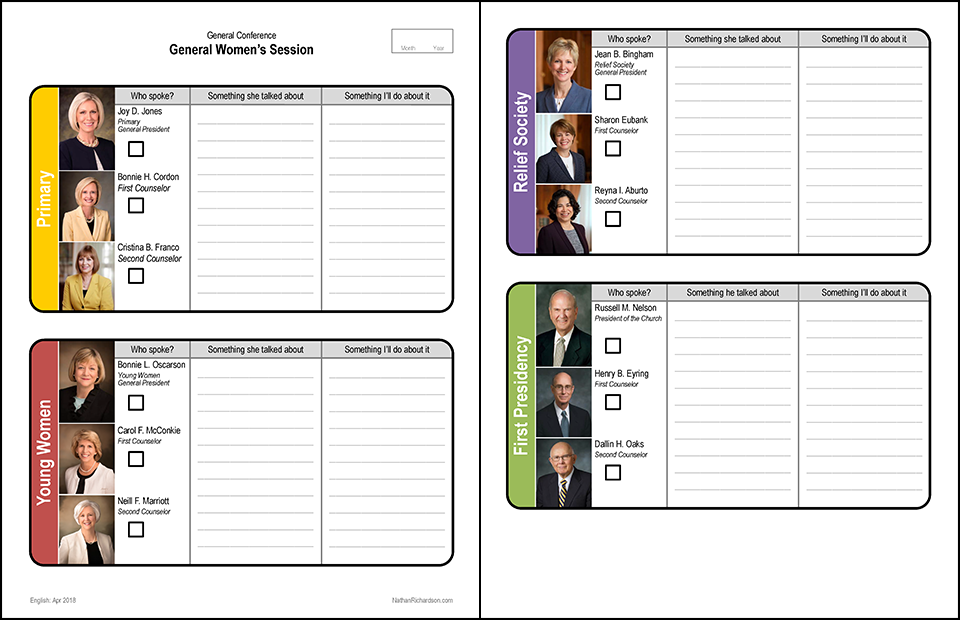 The layout is based on the patterns I could see in the last several women's sessions: they usually have four speakers, one from each female presidency and from the First Presidency. This worksheet includes all those potential speakers, with their faces displayed prominently so little eyes have something to hunt for as they listen. This way they only have to choose from a short list of nine potential ladies, which is very doable.
Then there's a section for writing what the speaker talked about, and another section for how the listener feels prompted to apply or act on that. I've heard several people advise this kind of note-taking, including Elders Scott, Hales, and Bednar. I do virtually all my gospel note-taking with this in mind, and I highly recommend it—it's a good way to invite personal revelation.
When I get around to it, I hope to post an example page of this worksheet filled out.
Thanks to reader Maggie Advincula for contacting me (using the contact form at the top of the the web page) to remind me of the need to update this with the changes in the First Presidency. I hope it serves you all well!