This reading schedule takes the weekly reading assignments from the Come Follow Me scripture study curriculum's table of contents and puts them into a weekly chapter checklist, lined up side-by-side with a calendar that shows which week those chapters are read, and allows you to check off the days you read. The calendar's dark grey days also indicate on which Sundays wards will hold Sunday school classes (the first and third Sundays of every month) and the alternating bands of grey and white show which weekly assignments will be combined and taught together in a single lesson, during each class session.
Small print (half-page single-sided)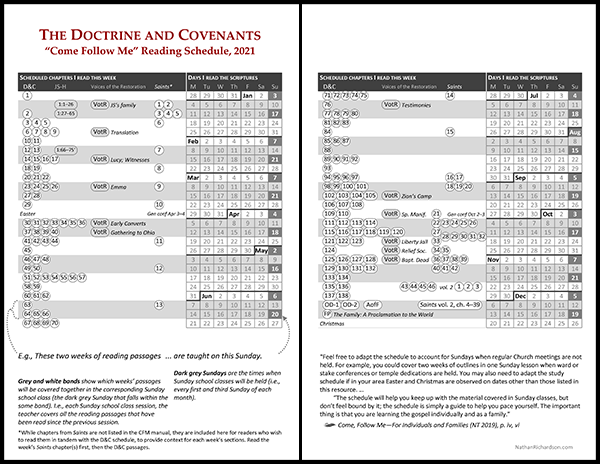 Large print (full-page double-sided)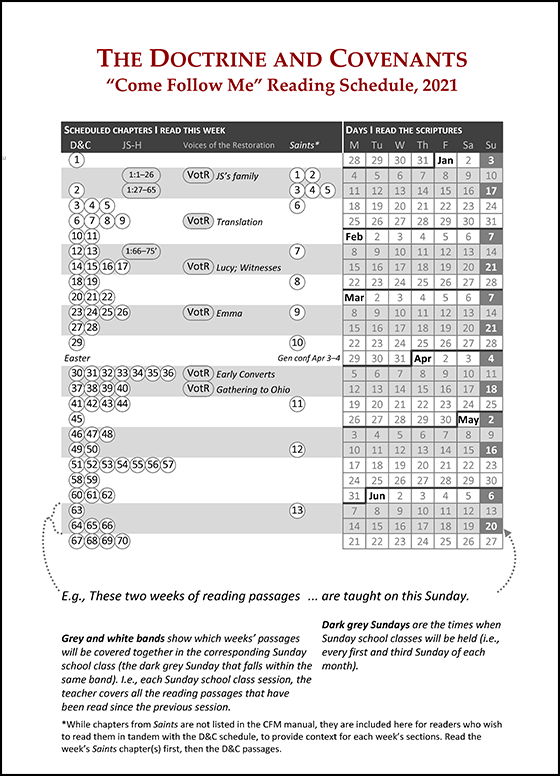 For example, during the week of Mar. 8–14, the reading is D&C 23–26. During the next week of Mar. 15–21, the reading is D&C 27–28. Sunday school will not be held Mar. 14 (a second Sunday of the month), but it will be held Mar. 21 (because it's a third Sunday of the month). During that class session, the teacher should cover the reading assignments for the previous two weeks.
This year's D&C curriculum also includes occasional enrichment readings called Voices of the Restoration, which are included in a dozen weekly readings, in the manual. Those are indicated on this schedule with a "VotR" checkbox.
I have also added checkboxes for reading the history Saints in tandem with this year's D&C passages. For example, during the week of Mar. 8–14, you would also read Saints volume 1, chapter 9, which provides the background events for that week's D&C sections, as well as for the sections in the next week. Note that by the time you get to the last few weeks, you'll reach portions of the D&C that haven't been covered yet in the existing two Saints volumes: D&C 138 will be covered in Saints volume 3 (which I'm guessing will be subtitled Sounded in Every Ear, or perhaps The Truth Will Go Forth) and OD-2 will be covered in Saints volume 4 (which I'm guessing will be subtitled The Purposes of God, or perhaps In Every Ear).
Note that in parts of the world where they don't meet on Sundays, they'll have to tweak this schedule somewhat.
We've been instructed, of course, that the reading schedule is flexible and is only a general guide. I thought it would be helpful, though, for people to have this reading schedule so they can pace themselves and know in advance which passages will be likely be discussed during any given Sunday school class session.
Try This Free Edition of the D&C
I highly recommend your read sections 1–40 using my custom edition of the Doctrine and Covenants from my StoryGuide Scriptures project. You can download it here.