I am now posting a sample of my current draft of the StoryGuide edition of the Doctrine and Covenants, my custom edition of the scriptures. This PDF sample includes D&C sections 1–40 (i.e., the New York period) and makes for perfect reading during the Come Follow Me reading schedule this year, during the months of January through April. You can download it here, and it can also be found on the main StoryGuide Scriptures page.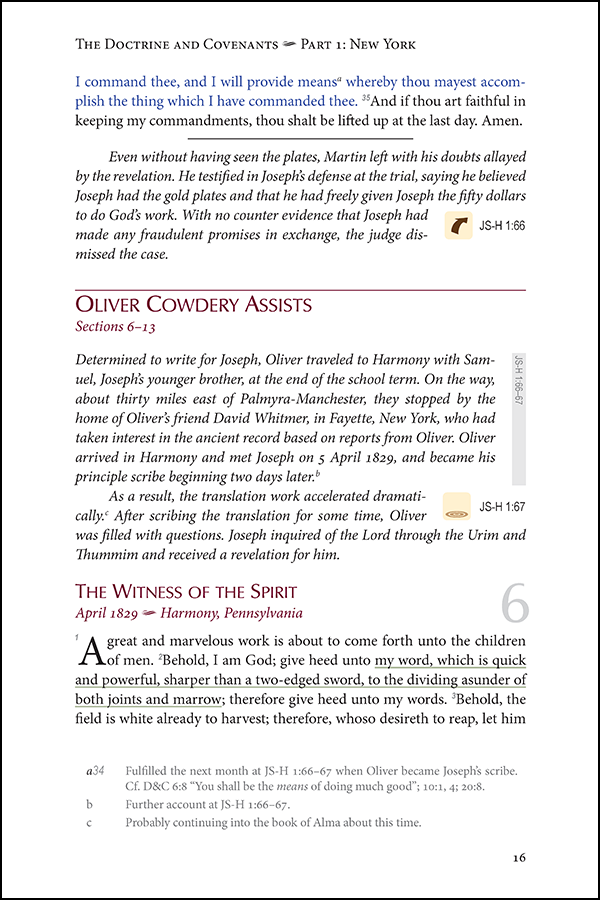 This is an ongoing project that I am actively working on every week, so that's why I'm only able to provide a sample at this point; I've only gotten this far in creating the book.
Narratives
One of the most important features of this edition of the Doctrine and Covenants is the paragraphs of narrative that come between each section. They form one continuous storyline woven through the scriptural text. I am composing the narrative based on basic Church history resources such as Saints, the Institute manual, Revelations in Context, the Joseph Smith Papers, etc.
In order to keep it from ballooning into a massive book, I am having to tightly prioritize which events to include, and even the ones I do include, I only describe in passing, expecting the reader to go to those more thorough sources for details. The main purpose of the narratives is to place the sections in context, as well as to alert readers to the outcomes of each section: Which commandments were obeyed, and by whom, and how? How were the prophecies and promises fulfilled? And so forth. Thus the narrative necessarily leaves out some arguably significant events or favorite stories, and focuses primarily on events that are referred to or alluded to in the scriptural text.
Footnotes
I am also tying the scriptural text and the narrative together through footnotes (which have a much more specific function than those in the Church's edition). For example, in the narrative after section 26, I mention the story of when Oliver insisted that Joseph remove a passage from the Church's articles and covenants (section 20) that Oliver thought was wrong. Then a little later at D&C 28:6 when the Lord tells Oliver, "Thou shalt not command him who is at thy head, and at the head of the church," I've inserted a footnote pointing to that narrative, explaining that Oliver had done that very thing two months earlier. Thus the narrative is knit to the scriptural text very tightly.
Other Features
This PDF book sample includes other features of the StoryGuide edition that I've used in other volumes and drafts posted on this website. If you've read these other drafts, you'll be familiar with these features.
Speech is colored to show when a person is speaking, or quoting another person, who is speaking, and helps you know how long the quote lasts. This is an incomplete draft, so not all the speech has been colored yet. I have also not yet decided how to distinguish between quotes, explicit references, and allusions or echoes. Tricky stuff.
Chronology markers help you jump back and forth between this volume and the Pearl of Great Price volume so you can read the Doctrine and Covenants in chronological order with Joseph Smith—History.
Parallel bars show where scripture text or narrative is recounted in other scriptures passages, or retells the same content in different words. For example, the narrative just before section 2 parallels Joseph Smith—History, as indicated by the grey vertical bar.
See the introduction at the beginning of the PDF for more explanation. And keep in mind that this is a draft, so there will be some errors and inconsistencies, as well as underscores _ where I plan to insert more text later.
Conclusion
One of the unique difficulties presented by the Doctrine and Covenants is that it has no storyline, unlike all the other standard works. Growing up, that feature made it difficult for me personally to become acquainted with it. I hope that by creating this StoryGuide edition with historical narratives, I am helping others overcome this obstacle more easily than I did.
It has been a looonnng, slow process to make this version; I wish I could quit my job and hole up in a monastery somewhere to work on it full-time (a monastery that would have good wifi … and would let me keep my good wifey). Then I could crank out the book in less than a year. But I'm fond of eating three meals a day, so the current pace is where I'll stay.
Please share this resource far and wide. It will be especially helpful for people to discover it while we're reading D&C 1–40 in the Come Follow Me study program (download a handy schedule here). And please feel free to leave suggestions or comments; I've made several changes to this project along the way, based on ideas from friends and strangers alike.
If you'd like a print copy of the StoryGuide Doctrine and Covenants, you can order a bound volume of an earlier draft from Lulu.com. The printed volume available there is an earlier draft, draft 2, and does not have the historical narratives in between each section. That's because the current draft is unfinished; I'm still researching and composing the narratives.